Welcome to the website for Time Line Therapy™. We hope that while you are here you will discover the true empowerment that emotional freedom can bring. If you want more information about our Time Line Therapy® trainings and seminars, please Contact Us.
Certification Training: When you have taken a Time Line Therapy® Training and the training was approved by the Time Line Therapy™ Association, you can enroll here.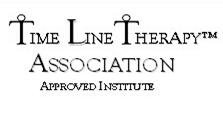 Enroll with the Time Line Therapy ® association
If you wish, you can enroll with the Time Line Therapy ® Association right on the internet. If you have taken the necessary training from a Recognized or an Approved Institute* you can also receive Certification from the Association.
The registration/certification fees listed below are payable yearly, renewable annually, and are different for each level of membership. New documents are issued each year upon renewal. Members residing outside the United States of America must pay by a check drawn on a United States bank or by credit card. There is a $20.00 additional fee for overseas members to cover the mailing cost of publications.
Enroll on the web….and you will receive your certificate in the mail (snail mail). Then, you can proudly display the official seal of the Time Line Therapy Association on your wall.
*Membership will be confirmed once certification is approved.
Before you enroll, please read the Terms and Conditions of Enrollment:
By my clicking on Accept below, I understand that any false statements made on this application or subsequent renewals shall void this application, and I may be subject to termination of my membership. My acceptance shall also constitute verification and affirmation that I have honestly and accurately completed the information contained in this application.
I understand that any unauthorized use of the trademarks or logos of the TLTA will result in immediate suspension of my membership and privileges, as well as possible legal action. I understand that any unauthorized use of the trademark will result in immediate termination of my membership and rights and privileges.
I agree to follow the Code of Ethics as outlined in the membership brochure, and understand that if I do not, my membership may be cancelled. I acknowledge and agree that Time Line Therapy™ is an inherently distinctive service mark and trademark and that I will not adopt or use any terms that is confusingly similar to, or dilute the distinctiveness of Time Line Therapy™.
I understand that upon acceptance as a Time Line Therapy™ Association member, all fees paid by me to TLTA are non-refundable.
I further understand that Time Line Therapy™ techniques are not intended to handle deep psychological issues nor to replace traditional psychological treatment. I further state no claims, suits, or ethics violations have been filed against me pertaining to my practice; that no license registration has ever been suspended or revoked and that no disciplinary action has been or is pending against me.